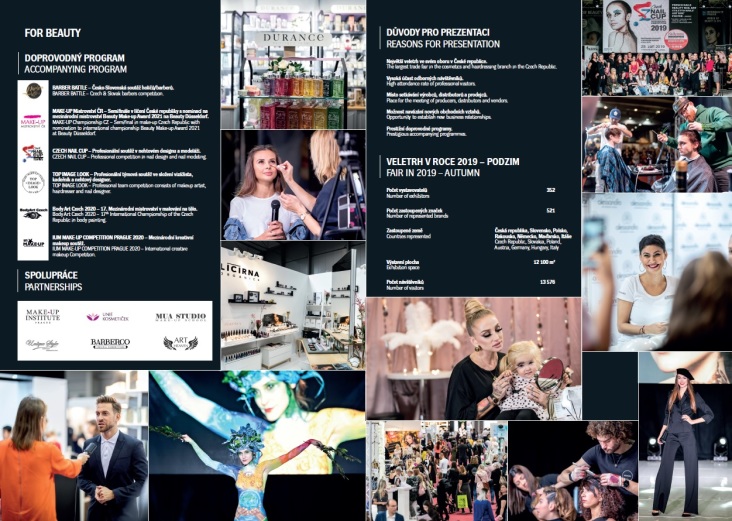 ACCOMPANYING PROGRAM
BARBER BATTLE – Czech & Slovak barbers competition.
MAKE-UP Championship CZ – Semifi nal in make-up Czech Republic with nomination to international championship Beauty Make-up Award 2021 at Beauty Düsseldorf.
CZECH NAIL CUP – Professional competition in nail design and nail modeling.
TOP IMAGE LOOK – Professional team competition consists of makeup artist, hairdresser and nail designer.
Body Art Czech 2020 – 17th International Championship of the Czech Republic in body painting.
IUM MAKE-UP COMPETITION PRAGUE 2020 – International creative makeup Competition.

REASONS FOR PRESENTATION
The largest trade fair in the cosmetics and hairdressing branch in the Czech Republic.

High attendance rate of professional visitors.

Place for the meeting of producers, distributors and vendors.

Prestigious accompanying programmes.

FAIR IN 2019 – AUTUMN
Number of exhibitors: 352

Number of represented brands: 521

Countries represented: Czech Republic, Slovakia, Poland, Austria, Germany, Hungary, Italy

Exhibition space: 12 100 m2

Number of visitors: 13 576